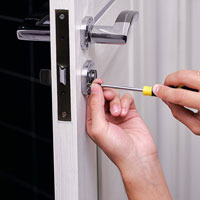 Any problem you're having with a lock which won't shut - or open - and this is the service you'll be needing! Delivered by Earl Locksmith's expert team of locksmiths throughout the week and at the weekend, we're able to provide efficient help whenever you need it. That's for any locking mechanism and any sort of property.
Simply give us a call whenever you need us - we're on the line 24 hours a day. And always provide fully guaranteed assistance handled by the right professionals for the job you need to be carried out.
Your lock seems to keep on turning without engaging
Your key is snapped, broken, or will no longer fit in the lock
Any time you're locked out
Whenever you can no longer secure a property
Get a Quote
We have specialists who are used to fixing any and all lock-related problems
Spot the branded uniforms our team arrives in with ease, and know we only put them on trusted, vetted professionals
Careful training and years of experience add up to a capable and courteous team
Get a free quote on your service first - and know there'll be no hidden charges tacked on later
A six-month guarantee is yours without you needing to pay any extra - we stand by the lock maintenance we deliver in London
This service is set up to be ultimately flexible. The technician who arrives to assist you will first assess the problem you're experiencing and tell you how they're going to deal with it. You then receive a quote - and once you tell us you're happy with that, we get to work.
There aren't really any problems that we can't help you with! Any type of lock and any type of mechanism can be efficiently restored to top condition by the expert we send. If the worst comes to the worst, we'll always be able to recommend any lock replacement options which might be required. But only if your repaired lock would no longer provide the right level of security.
I decided to improve the security of my new house, so I hired Locksmith Earl. I wanted a professional advice on the potential risks and security issues I might be facing. The compa
09/03/2021
I needed a way to cut down the shoplifting incidents from my small local store. Thanks to Locksmith Earl, I now have a modern CCTV system, which has virtually no blind spots for a
13/02/2021
I needed help with the smoke alarm in my home, which kept going on for no reason at all. Locksmith Earl responded immediately to my call, and a friendly technician arrived right on
08/05/2021
I am the property manager of a business building in the City of London. We have been using Locksmith Earl to handle the maintenance, the repairs and the upgrades of our keyless acc
24/07/2021
The key to my home safe got stuck in the keyhole. I thought that was the end of it, but I was wrong. I called the locksmiths from Locksmith Earl. A lockmaster came equipped with a
14/08/2021
View all
You can choose whichever day of the week is best for your lock fixing services in London - we offer them even at short notice too, featuring same-day and emergency appointment slots should they ever be required.
In all cases, you'll be able to get:
Friendly customer care support 24 hours a day, any day
A clear quote on your appointment - all you need to do is call
Get the answers to any questions or queries you might have
Your final appointment confirmed then and there
Get a Quote